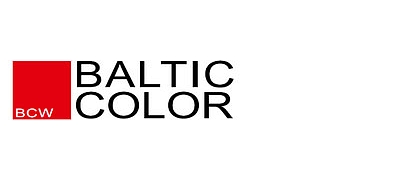 Baltic Color, LTD, powder painting, shot blasting, sand blast
2 in november 2020, 17:53

❝Ļoti laba krāsošana!❞
Add a rating and review
Sun

-

Mon

900-1700

Tue

900-1700

Wed

900-1700

Thu

900-1700

Fri

900-1700

Sat

-
40103797149

LV40103797149

Rīga, Anniņmuižas iela 13-12A, LV-1029

2020

1
SIA "BALTIC COLOR"( BCW) is a team of professionals with twenty years of experience in the Latvian and European markets, performing powder coating and shot blasting services, offers: Powder coating of metal products in 2 lines - TAISS Italy. 1. Automatic powder line 1500x900x9500 mm( 3,000 mm) ( aug.xplat.x gar) . 2. Oversized line 3000x2700x5400 mm( aug.xplat.xgar) . Weight up to 700 kg. 3. On-line treatment with chemical anti-corrosion metal surface protection. 4. Efficient cleaning of parts by shot blasting. The workshop is equipped: 1. With the professional painting equipment of the Italian TAISS company. 2. With Italian professional chemical metal surface anti-corrosion protection line - TAISS Italy. 3. With professional spray guns - Gema - Switzerland. 4. Professional equipment Clemco - metal shot blasting.

More
Powder painting, Sandblast, Shot blasting, powder paint trade,
sandblast, sandblasts, sand blast, blasting,
part renovation with sand blasting, cleaning with sandblast,
sand blast treatment, bicycle and moto parts cleaning with sandblast,
cleaning of metal from rust and treatment of old painted steel surfaces,
metal peeling, treatment of steel surfaces, surface treatment with shot blasting,
abrasive cleaning, metal construction cleaning. Metal surface treatment,
metal processing, metal surface painting, metal part painting,
metal article powder painting, powder coating of metal parts,
Galvanized parts painting, painting with zinc powder, galvanizing with powder zinc,
metal anti-corrosion treatment. Bulky detail painting,
non-standard parts painting, priming, bulky metal products,
metal constructions and products powder painting, powder painting of large metal surface parts. Steel, aluminum painting,
aluminum profiles painting, railings, gate powder painting,
fences, stairs, electricity poles, light poles, bridge constructions,
pipes, pipes, metal letters, ventilation, office furniture,
advertising store stands, metal panels, construction tools,
roofs, windows, doors, interior design elements, handles, metal railings,
detail painting of bicycle frames, bicycle and moto parts, moto frame,
metal door, disk coloring shot blasting, disc restoration,
powder coating, car wheel powder painting, metal part painting,
wheel powder painting, car spare parts painting, car wheel restoration,
car wheel cleaning, disc painting, light alloy wheel,
car wheel powder painting, motorcycle wheel restoration and powder painting,
Disc painting Sarkandaugava, Powder painting Sarkandaugava,
Sandblasting Sarkandaugava, Sand blast Sarkandaugava, Shotblasting Sarkandaugava, Powder coating with Consus powder paints,
powder paint for sale, powder paint Consus, ISO quality standards.
Pre-treatment of painting surfaces, surface anti-corrosion treatment,
protection Anti-corrosion treatment, Previous preparation,
surface preparation of products for painting, Full traceability of details,
high quality powder coating. Cleaning, Phosphating.
Long lasting, persistent powder coating. Adhesion, gloss level,
thickness test, polymerization furnace, Welding, welding works,
Painting with polyurethane and heat-resistant paints.

More