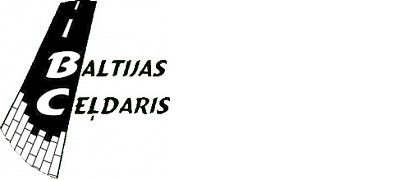 "Baltijas Celdaris", Ltd., paving, management, improvement works
40103733468

LV40103733468

Rīga, Murjāņu iela 34-45, LV-1064

2018

2
"Baltijas Ceļdaris" is a road construction company, which started employing the best road construction professionals that have gained their work experience while working in the leading road construction companies in Latvia. Baltijas Ceļdaris specializes in paving and asphalting of roads, streets, squares, as well as improvement and cleaning of areas, building sites and private yards. By choosing our services, you choose an individual approach as well as a creative and qualitative solution for your intentions and desires. Our client is our advertisement!
More
Paving, paving works, parking lot paving, parking lot, sidewalk paving,
gājēju celiņa projektēšana, gājēju celiņa ieklāšana, gājēju
celiņa bruģēšana, track paving, celiņu izveidošana, creation,
paving, pavement, territory, territory improvement, management, territory management,
cobblestone, cobblestone paving, seguma klāšana, laying, granite cobbles,
concrete pavement, clinker pavement, betona bruģa plāksnes, granīta
plākšņu ieklāšana, skaldīta granīta seguma ieklāšana, klinkera
segumu ieklāšana, pavement washing, piebraucamo ceļu veidošana,
piebraucamo ceļu ieklāšana, piebraucamo ceļu projektēšana,
trotuāru izveidei, trotuāru projektēšana, parking paving, asphalt paving,
autostāvvietu asfaltēšana, asphalt-paving works, road construction,
street construction, ietvju būve, square construction, laukuma izbūve,
children's playground construction, repair, improvement, high asphalt,
cold asphalt, ceļu trotuāru izveidošana, mazo dārza apmalīšu izveidošana,
ceļu trotuāru remonts, hole repair, hole mending, sidewalk repair,
trotuāru tīrīšana no sniega, trotuāru attīrīšana no sniega,
car park cleaning, area maintenance, maintenance, in winter, during winter,
salt spreading, EKO sāls, Calcium chloride, sāls kaisīšanas pakalpojumi,
snow cleaning, snow removal, territory cleaning from snow, road cleaning from snow,
roof cleaning from snow, sand spreading, lawn mowing, leaf collection,
leaf raking, removal of leaves, lawn mowing, lawn creation, grass mowing,
territory management, collection of leaves, gardener services, flower bed planting,
puķu dobju ravēšana, garden reconstruction, jaunu dārzu ierīkošana,
dārza ierīkošana pie jaunbūvēm, amensdārzu iekārtošana, akmens dārzu sakopšana,
akmens dārzu uzturēšana, dārzu sakopšana, maintenance of gardens,
territory cleanup, sidewalk cleaning, ditch removal of trees, sidewalk cleaning,
ditch mowing, pipe cleaning, drain system cleaning, sewer pipe cleaning,
ice cleaning, ledus nosišana, territory cleaning, ice melting, ice removal,
territory improvement, watering, watering system installation, tree cutting,
sawer services, bush cutting, grinding, bush, bush cutting, road cleaning,
roads strewing, spreading, shrub trimming, mulching services, arboriculture services,
lawn, zonas ierīkošana, seeding and mowing, kokkopja konsultācijas,
arborista konsultācijas, kokkopja pakalpojumi, arborist services,
territory cleaning, purification, trotuāru mazgāšana, territory
treatment with anti slip material, sniegu tīrīšana, sniegu izvešana,
we work all over Latvia, pavement manufacturing, pavement production plant,
pavement factory, concrete cobblestone, curbs, street curbs, road curbs,
lowered curbs, qualitative pavement, price for pavement, prices for pavement,
prices for cobblestone, pavement price, road surface, sidewalks,
concrete products, tactile paving, concrete slabs, sidewalk paving,
sidewalk curbs, road materials, rhombus, modern pavement, three-dimensional effect,
pavement delivery, pavement sale, paving sale, curb production in Latvia.

More