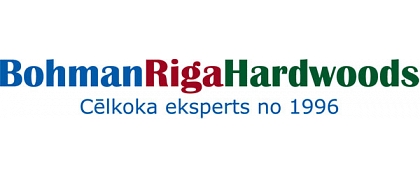 Bohman Riga Hardwoods, LTD, Precious wood, knife veneers, ACCOYA, SIHGA
17 in january 2020, 10:03

❝Atsaucīgs personāls❞
Add a rating and review
Sun

-

Mon

900-1700

Tue

900-1700

Wed

900-1700

Thu

900-1700

Fri

900-1700

Sat

-
40103267101

LV40103267101

"Nordea Bank Finland Plc Latvijas filiāle"

LV17NDEA0000082561020

05.01.2010

Rīga, Biķernieku iela 121, LV-1021
The Bohmans brand has been known to Latvian furniture and interior manufacturers since 1996, when the Swedish manufacturer of knife veneers and hardwood lumber. Knife veneers, hardwood lumber, facade and terrace boards, their fastening systems. SIGHA screws, fasteners, connections, support feet for wooden structures. ACCOYA® modified wood, MEDITE TRICOYA EXTREME waterproof MDF board.

More
Knife veneers
Sawn timber
Engineered knife veneers
Decking boards and fasteners
Cladding boards for external walls
SIHGA screws, connections, terrace support feet
Glued shields
Carpenter boards
Glued window components
Decorative carvings
Knife veneer edge materials
BauBuche glued panels
JOWAT adhesives
Balance paper for veneering
Parquet boards
More
The range of our offer includes knife veneers and edging materials of various tree species, hardwood dried lumber, larch, tropical wood, thermowood terrace boards and facade cladding boards, PVC composite material terrace boards, glued window screens, hardwood parquet boards. We offer ACCOYA modified wood lumber. The offer also includes auxiliary materials for tightening the veneer and balance paper for veneering. For strengthening wooden terraces, facades and wooden building structures, we offer SIHGA GmbH professional fittings for wood and wooden building structures.

More
Knife veneers, precious wood material, ACCOYA modified wood,
terrace boards, terraces support feet, terraces lago, terrace screws,
cladding boards, facade plank fasteners, glued solid wood shields,
carpentry plate, glued window components, knife,
veneer, SIHGA screws and joints for wooden building constructions.
SIHGA supports for teraces. Oak boards, mahogany, wenge, teak,
walnut, polisander, zebrako, maple, red Canadian cedar,
cherry, masaranduba, merbau, bangkirai, meranti, sapele, jatoba,
iroko, sipo, padouk, larch. SIHGA, CORA PREX, ACCOYA, Jowat, MEDITE TRICOYA EXTREME,
VINTERIO.

More