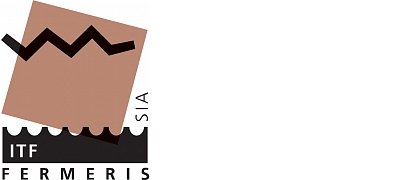 Fermeris ITF, Ltd., Door hardware distributor
17 in july 2019, 18:13

❝Profesionāla apkalpošana!❞
Add a rating and review
Sun

-

Mon

900-1700

Tue

900-1700

Wed

900-1700

Thu

900-1700

Fri

900-1700

Sat

-
40103012879

LV40103012879

"SEB banka", "Vecrīgas" filiāle

LV23UNLA0001001467773

15.06.1991

Gregora iela 8 – 68, Rīga, LV-1083
"Farmer ITF" offers a wide range of keys, hinges, stops, closers, latches, seals, access systems, master key systems, doors, windows, full glass, gates and related fittings. A wide range of forgings. Elements of railing systems.
More
Delivery of goods within Riga is free of charge if the order amounts to EUR 100. Usually it takes 1 or 2 days to complete your order.

More
The privacy policy provides information on how "Farmer ITF" collects, processes, stores, shares, deletes and protects the Client's personal data, thus ensuring that the Client's personal data is processed legally, in good faith and in a transparent manner for the Client.
The current version of the privacy policy is published on the Fermeris website at www. a farmer. lv, in the Privacy Policy section.
More
Keys, locks, electrical, fireproof keys, solenoid locks, electric locks, electromagnetic locks, motor locks, DIN locks, panic exit keys, narrow profile locks, safes, suspended, seamless, mortise locks, increased security locks, mechanical code locks, electronic code locks, extra keys, the gate, hotel, garage, post office box keys, padlocks, magnetic locks, spidertype, three point, roll, glass door locks, furniture locks, scandinavian standard keys, euro cylinders, key cores, profile cylinders, oval cylinders, scandinavian cylinders, WC cabin keys, keys for sliding doors, mastersystems, locking systems, cable troughs, flexible drives, brass, austenitic brass, chrome plated, wooden, aluminium, stainless steel handles, handles on mixed linings, handles on long lining, bulletproof linings, enhanced safety linings, stationary, centra, chisel, clamp handles, knobs, pulls, gold-plated handles, with silver coating, with crystals, with porcelain, exclusive handles, Art Nouveau handles, panic exit handles, saunas, hatch handles, handles for boxes, furniture handles, window handles, handles for sliding doors, fire safe door, full glass door, on the wall mountable door stops, lock with lock, magnetic door stop, door automatics, eyepiece, latch, closers, springs, chains, guards, rooms, signs, hydraulic door closers, mailbox covers, mail boxes, knockers, bolts, malleable latches, latches, latches, latches for padlocks, padlock brackets, ventilation grilles, hanging hooks, wardrobe hooks, household hooks, rack mounts, consoles, decorative consoles, pin consoles, angles, construction forgings, flag rod holders, bell buttons, railing pillars, piano hinges, double spring hinges, spring hinges, adjustable hinges, steel hinges, stainless steel hinges, brass hinges, hinges with bearings, finger hinges, screw hinges, hidden hinges, welded hinges, rebated hinges, gate hinges, furniture hinges, chest hinges, hinges for glass doors, sauna hinges, sliding door rails, sliding door rollers, anti-taking out pins, window mechanisms, fasteners, window locks, door accessories, window taps, window locks, mounting anchors, sealing rubbers, fireproof seals, smoke rubber, shutter locks, ventilation pane handles, fittings for glass, glass partition wall mounts, glass partition wall hinges, shower fittings, shower hinges, shower sealants, glass construction fasteners, spacers for glass, aluminium thresholds, mosquito nets, falling thresholds, polyurethane adhesive, foam adhesive, epoxy putty, filler for wood, bathroom accessories, bath safety handles, intercoms, railing systems made ​​of stainless steel, railing elements, door sealing brushes, large handles, Abloy, ASSA, HABO, IBFM, MESTRE STYLE, BRIALMA, FADEX, TITAN, LA FLORIDA, AMIG, PETTITI, MARIANI, ZERMAT, VALENTI, KEMP, TRIBOLLET, ABUS, CISA, BOLIS ITALIA, Ghidini, PASINI, TECOSUR, TUPAI, METALPLAST, BARCZ, VULCANIA, THE RASS MAN INDIA, DORMA, SECURIDEV, DOM GROUP, wide selection of handles, antique door handles, design door handles, historic door handles, retro door handles, wooden handles, sauna handles, handles with Swarovski, door hinges, bar hinges, 2D hinges, 3D hinges, door brushes, brushes for sealing technological gaps, brush-type seals, automatic thresholds, fire-resistant, automatic thresholds with 68db sound insulation for hotels, door chains, door guards, keybox key box with code, key storage code box, door latches, bolts for gates, gate latches, gate fittings, gate hinges for metal poles, gate hinges for concrete posts, adjustable gate hinges, sliding gate rails and rollers, sliding gate keys, sliding gate automatics, swing gate automation, hinged bearings, brass rings for hinges, brass window handles, T-shaped window handles, forged window handles, historical window handles, lockable window handles, window handle with lock, ventilation locks for windows, window opening restrictors, scandinavian window mechanisms, headlight opening mechanisms, handles for PVC windows, window baskets, window protection with alarm, window protection, forged nails, decorative nails, brass nails with countersunk head, brass nails with semicircular head, wood screws with straight flange, exclusive faucets for sinks, baths, showers, faucets with Swarowski, faucets with 24k gilding, faucets with antique silver coating.
More