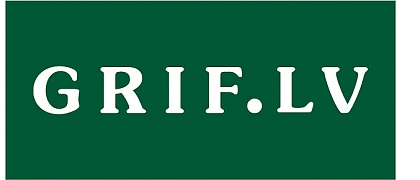 "GRIF", LTD, Work clothes shop, Kurzeme regional workwear specialist
Sun

-

Mon

830-1730

Tue

830-1730

Wed

830-1730

Thu

830-1730

Fri

830-1730

Sat

-
The company offers personal protective equipment: work clothes, shoes and gloves, fall protection systems, head and face protection, as well as performs work protection services.

More
Work clothes, work footwear, gloves, headphones, Moldex respirators,
safety belts, winter boots, overalls, winter jackets, fall arrest systems,
glasses, helmets, masks, half masks, protective clothes, lamps, tents.
Clothing, protective clothing. SIA GRIF. Work clothing factory.
Work safety, labour protection, risk evaluation, work environment risks,
risk. Occupational health and safety specialist, specialists, work environment monitoring.
Labour protection system audit and improvement, workplace risk assessment and action plan development, labor protection documentation development and adjustment. ANSELL, Moldex,
Fristads, Z-Style, MICROGARD, SIOEN, Cofra, Diadora, Sparco, JSP,
UNIVET, BEKINA, Portwest, Protekt, DeltaPlus, ToWorkFor, Plum, Granberg,
Ocean.

More