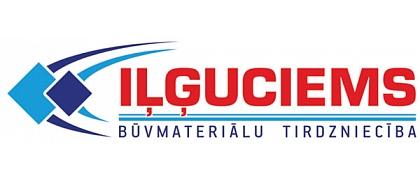 Iļģuciems, LTD, trade and wholesale of construction materials
Valentīna Piskunova

Ludmila Tarasova
Sun

-

Mon

830-1730

Tue

830-1730

Wed

830-1730

Thu

830-1730

Fri

830-1730

Sat

-
40003009711

LV40003009711

"Swedbank"

LV70HABA0026408039250

12.07.1991

Cesvaines iela 22, Rīga, LV-1073
Company "Ilguciems" It has been operating in the Latvian market for more than 30 years and has proven itself as a reliable partner.
Today the company "Ilguciems" is a well-known supplier of building materials and doors in European countries. Cargo delivery throughout the territory of Latvia. We are a team of like-minded people. Our Sales Department are high-class professionals whose experience serves as a guarantee for quality customer service.
When advising clients, we try to find the most rational solution to the problem. Buyers appreciate our individual approach. Company "Ilguciems" has a good reputation among both buyers and competitors. We can agree.
More
Construction materials
Doors
Roof covering
Interior doors
Exterior doors
Sliding doors
Waterproofing
Heat insulation
Blocks
Bricks
Bitumen shingles
More
cargo vans( product weight up to 1. 2t)
truck with manipulator( product weight up to 12t)
truck with manipulator( product weight up to 22t)
More
Construction materials, doors, cast iron products, solid wood doors, doors made of wood, belarusian doors, door fittings, jambs, door centre, Belarusian construction materials, doors Ilguciems, Ilguciems building materials store, Iļģuciems shop, shop Ilguciems, roof covering, extruded ruberoid, construction chemicals, chipboards, suspended ceilings, regypsum, tin sheets, glass blocks, bricks, expanded clay blocks, Tehnonikol, Bikroelast, EKP, UNIFLEX, Tehnomast, Bipol, bitumen in bags, bitumen, bitumen shingles, bitumen ridge, bitumen ledge, underlay, roof tiles, metal roofs, tin roofs, rolled profile, sea ​​wave, metal profile, zinc coating, metal roof production, roof gutters, gutter, bracket, smooth sheets, painted flat sheets, tin, tin products, ridge, eaves, drip cap, wind brace, metal screws, screws for roof, roof screws, oak lining, wenge veneer, brick, fireclay bricks, ša-5, ša-8, belarusian fireclay bricks, silicate bricks, silicate brick, oven bricks, chimney bricks, aerated concrete, Texoblock, texoblok, texoblock, Mdf doors, heat insulation, wool, rock wool, glass wool, facade wool, Rockwool, Rockwool, ISOVER, Tehnolight, Dachrock, Rockmin, Domrock, mineral wool, foam polystyrene, extruded foam polystyrene, eps 60, eps 100, eps 150, eps 200, Sakret, glue, concrete, concrete clone, foam plastic adhesive, reinforcing, reinforcing mesh, foam plastic nails, online shop, shop, door price, wooden interior doors, wooden doors price, Belarus doors, cheap doors, doors from Belarus, interior doors prices, Istokdoors, ISTOK DOORS, Horizontal, Vertical, Miks 2, polypropylene coating, Domino, Mellinga, Venge, Versalle, Loza, Belovezskie, construction materials, construction material store, building materials stores, building materials stores in Riga, building materials store in Riga, sale of construction materials, construction materials stores, construction shops, building stores in Riga, prices of building materials, plasterboard, plasterboard, plasterboard price, plasterboard profiles, profiles for plasterboard, plasterboard walls, gypsum board, gypsum cardboard price, wallboard fasteners, plywood, floor, floors, reinforcement mesh, armature meshes, reinforcement mesh price, glass fiber reinforcement, armature, leveling mixtures, floor leveling, fast-hardening mortar, concrete floor, concrete floors, clay, clay price, clay for floors, silage clay, expanded clay price, roof, roofs, roof materials, roof additional materials, bitumen tiles, materials for flat roofs, roof covering, roof covering, roof coatings, roofing prices, metal roof coverings, roof covering prices, roof gutters, water drain systems, roof gutters, ruberoid, ruberoid price, roof shop, asphalt paper, bitumen, bitumen mastic, polystyrene glue, bitumen primer, ruberoid glue, mastic, bituminous sheet, corrugated sheets, interior finish, construction blocks, expanded clay blocks price, expanded concrete blocks, concrete blocks, silicate blocks, concrete block lintels, bricks, finishing bricks, brick, silicate bricks, decorative bricks, fireproof bricks, brick for chimney, clay bricks, silicate bricks, fireclay bricks, building bricks, door systems, curbs, curb, finishing materials, dry mix, dry mixtures, screws and fasteners, metal fasteners, wooden doors, exterior doors, interior doors, veneered doors, laminated doors, laminate doors, metal doors, sauna doors.
More