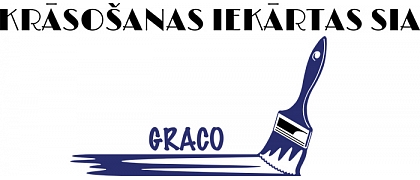 Krāsošanas iekārtas, LDE LINING, trade, rental, repair
7 in november 2019, 19:44

❝Ļoti labas iekārtas!❞
Add a rating and review
Sun

800-2100

Mon

800-2100

Tue

800-2100

Wed

800-2100

Thu

800-2100

Fri

800-2100

Sat

800-2100
40103819126

LV40103819126

21.08.2014

Brīvības iela 159A – 27, Rīga, LV-1012

2022
GRACO manufacturer of high pressure painting, AIR MIX industrial equipment, painting technology and application solutions for various materials. GRACO official equipment dealer. The company knows GRACO equipment - equipment for application of polyurethane foam, polyurea material, polyurethane elastomer, their construction. Sale of epoxy floor covering materials. Painting equipment repair, rental. Sandblast rental. Industrial equipment: Airblast, Contracor, Donaldson, Venjakab, Sapi. Sandblasting, wet, dust-free, soda jet cleaning. LDE LINING official direct GRACO dealer in Latvia.

More
Distillation apparatus
Industrial equipment
Industrial ventilation
Polyurethane foam and polyurea
More
Sale and service of industrial equipment Graco and other painting equipment. We have been in the Latvian market for 7 years, the company employs experienced specialists with more than 12 years of experience. Painting Equipment Ltd. is one of the leaders in its industry. Specialists also offer training and counseling.

More
Industrial equipment, Graco painting equipment, Polyurethane application equipment, Repair of painting equipment, Puttying equipment, High pressure painting equipment, Floor covering equipment, Painting equipment rental, Abrasive cleaning equipment, Sand blasting equipment, Foam polyurethane machines, Sandblast rental, Repair of high-pressure painting equipment, Air Mix painting equipment, Sand blasting cleaning, High-pressure washing equipment, Metal surface treatment.

High-pressure washing machines FALCH up to 3000 bar, Equipment for polyurethane foam application, Polishing equipment, Waterproofing industrial equipment, Abrasive cleaning, Sand blast, Polyurethane resin, paint coatings, Polyurethane foam application equipment, GRACO painting equipment, Industrial equipment, painting equipment for the application of protective coatings, to prevent corrosion, painting equipment service, puttying equipment, painting filters, dust-free abrasive cleaning, protective coatings, Polyurethane, polyurethane solutions, Snaco, Airblast - sandblasting, Sand blasting cleaning,

jet, cleaning, dust-free sandblasting, cleaning with soda blasting, granite cleaning with sandblast, pavement, brick cleaning with jet, wood cleaning with jet, road marking cleaning, cleaning, removal, Contracar - sandblast, Formeco - solvent distillation, Donaldson - industrial filtering, Venjakob - automatic lines, Osu Hessler - galvanizing, Epoxy coatings, liquid rubber, solvent purification, liquid rubber coatings, Different hardness, coatings of different hardness, rubberized coating, UV resistant coatings, coatings, Qualitative coatings, extremely resistant materials for coatings, Polyurethane foam insulation, heat insulation materials, insulation, Water, wear and tear, exposure to chemicals and UV( ultra violet ray) protection of roofs, for terraces, for foundations, walls, sewer tanks and industrial floors, Polymer material decking, Heat-waterproofing with polyurethane foam for hangars, flat roofs, oil tanks, without dismantling existing pavements, foam polyurethane machines, Sandblasting equipment, Drinking water tower coatings, coatings for potable water tanks, coatings for water towers, Waterproofing, Thermal insulation, heat insulation, Polyurethane foam filling, Polyurethane form, polyurethane form materials, silicone forms, silicone form materials, material for making molds, for concrete, plaster, forms for glass fiber products, car tuning form material, plaster form materials, moulds, moulds, Seamless roof materials, roof coatings, coatings for terraces, coatings for tiles, transparent coatings, Abrasion protection in industry, for different mixers, vibrating tables, in malsana tanks, for dampers, protection for car frames, protection kuzovos, body protection, Systems for making molds in restoration, sculpture making, mannequins and decorative panels, stone production, Waterproofing, polyurethane membranes, Polyurethane foam for thermal insulation, polyurethane form materials for decorative building elements, polyurethane protective coatings, polyurethane and epoxy materials for floors, Membranes for pools, water tank waterproofing, waterproofing for terraces and roofs, Transparent waterproofing materials - for tiles, tile waterproofing, Industrial flooring surfaces, coatings, Elastomers, seamless coatings, Construction solutions, Roofs, roof waterproofing, Waterproofing materials, Waterproofing materials, Waterproofing materials, Waterproofing, Sutures, waterproofing of joints and cracks, Concrete element waterproofing, Elimination of active leaks, liquidation, Capillary leak elimination, Cracks, crack insulation, Water, moisture-proof flat roofs, gap filling, hole filling, Mariflex PU 30, defective place filling with polyurethane sealant, Primers, we use Mariseal 710 or Aqua Coat primer, waterproof membrane, Mariseal Fabric, Toplayer, Mariseal 400, apply with brush, Underwater glue, terraces and balconies, balcony waterproofing, rooms with high humidity levels, green roofs, Foundations, foundation waterproofing, waterproofing materials, cracks and joints, industrial solutions, industrial floors, Roofs, Roof coatings, roof repairs, roof repair materials, Construction solutions, flat roofs, industrial buildings and hangars, residential and public buildings, Industrial solutions, Oil reservoirs, freezers, Shipbuilding materials, boatbuilding materials, Polyurethane, bituminous materials for waterproofing foundations, Pools, pool waterproofing, Flooring surfaces, concrete floors, marble floor, stone floors, Concrete, polymer, polymerconcrete, marble, epoxy, granite, wet, non-slip, travertine, terrazzo, natural stone, tile, painted, polished concrete, polished concrete floor, levelling, restoration, renovation, polishing, crack liquidation, filling, floor covering protection, covering repair, reinforcement, worn concrete floor repair, floor renovation, step protective coating, private house, bureau, hangar, garage, car service, parking lot, trade center, anti-wear, wear-resistant floors, anti-dust, seamless, polished, warehouses, warehouse, industrial, industrial, food, agricultural complex, high performance coatings, water-proof floors, bacteriological, antiallergic floors, anti-allergic floors, flooring, floor coverings, coatings, floor resistance to chemicals, floor resistant to aggressive environment, bath floor, pool, pool, saunas, sauna, gyms, medicine, plant floors, pharmacy floors, pharmacy floor, hospital floors, hospital floors, medicament factories, typography floors, Anti-scratch coverage, Free consultations for clients, Building, facade cleaning, monument, sculpture cleaning, metal, stone, wood abrasive cleaning, Industrial covering removal, cleaning, equipment, Coat of paint removal, ship covering removal, purification, renovation, rust corrosion cleaning, cleaning in water, abrasive cleaning, Ventilation, ventilation equipment, Sandblast rental, Paint guns for carpentry, for finish, High pressure painting equipment, high-pressure washing equipment( 0-2500 atmospheres), Concrete cleaning with high pressure equipment, Air Mix painting equipment, repair, service, rental

More