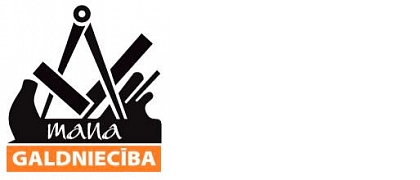 Mana Galdniecība, LTD
Sun

-

Mon

800-1700

Tue

800-1700

Wed

800-1700

Thu

800-1700

Fri

800-1700

Sat

-
41203053660

LV41203053660

07.01.2015

"Dreimaņi", Padures pag., Kuldīgas nov., LV-3321

2022
Latvian talent is the art of creating beautiful and useful things. One of such masters of his talent is Māris Stepanovs, the owner of a carpentry establishment created by Kuldīga region "My joinery", where windows, doors, furniture, stairs and other wooden products are made. 2016. year "My joinery" was nominated for the New Company of the Year award. "My carpentry" the products are meticulously handmade and are made to individual order. Here it is possible to realize any wish - both standard and non-standard, using both wood and laminate. Any product goes through a full production cycle. The customer also participates in the creation process with his vision of what the final product should look like. The company continues to grow and develop, following the latest fashion trends in design. The company has a CE certificate in the production of windows and doors.

More
Joinery, joiner's works, joiner, my joinery, carpenter services,
windows, doors, stairs, furniture, kitchen equipment, built-in closets,
furniture production, standard and non-standard furniture,
furniture for home, for bureau, wood products, individual furniture,
custom-made furniture, qualitative furniture, carpenter's work in Riga,
Riga, carpenter's work in Riga, carpentry works in Ventspils, carpentry works in Kuldiga,
wooden doors, wooden windows, wooden stairs. Joiner, good carpenter in Kuldiga,
Kurzeme, engravings, everything from wood, woodwork, house signs,
engraving of house signs, business card engraving, in wood engraved business cards,
engraving in wood, engraved menus, creating menus for restaurants,
personalized menus
, making of wood engraved images,
wooden business gifts, wooden souvenirs, wooden items, wood products,
souvenirs and gifts with engraving in wood, wooden business card holders,
wooden pallets, wood decors, wooden diplomas, invitations, awards.
Engraved signs, latvian signs. Sliding systems on request,
kitchen furniture, custom-designed furniture, wooden furniture,
veneered furniture, sliding furniture, interior doors, exterior doors,
steps, stairs, stairs, panel doors, stair railings, stair railings,
joinery products, bedroom furniture, exclusive wooden furniture,
solid wood furniture, design elements of wood, nursery furniture,
woodcarvings, stairs, office furniture, furniture for office, schools, for kindergartens,
dining room furniture, beds, chest of drawers, chairs, tables, cabinets, systems,
delivery, assembly, installation, consultations. Maris Stepanovs.
Your engravings.

More