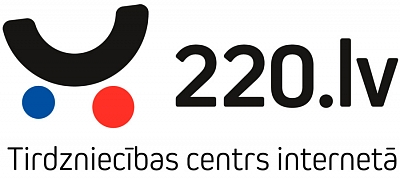 "Pigu Latvia", Ltd., Online shop 220.lv
43603025092

LV43603025092

17.11.2005

Rīga, Maskavas iela 257, LV-1019

2019
Online store 220.lv offers everyone a wide selection of furniture, home and repair goods, garden accessories. High-quality pictures, detailed descriptions and customer feedback will help you make a decision. We provide convenient delivery of orders throughout the territory of Latvia. Reliable manufacturers, great prices and 24/7 telephone help.
More
Furniture, tools, plumbing, sinks, pools, radiators, hydrophores,
garden furniture, heating, water heaters, garden equipment, bathtubs,
shower cubicles, toilet bowls, faucets, cornices, towel warmers,
water mixers, fireplaces, dehumidifiers, ceiling lamps, conditioners,
ventilators, stoves, air humidifiers, smoke detectors, heating boilers,
heaters, convectors, bathhouse furnaces, tools, stairs, electric tools,
household shelves, scaffolding, screwdrivers, perforators, drills,
saws, compressors, grinders, concrete mixers, planes, milling cutters,
electricity generators, soldering irons, welding equipment, paint pulverizers,
pressure washers, work clothes, mailboxes, house numbers, safes,
water pumps, doors, exterior doors, interior doors, door handles,
photo wallpaper, adhesive films, bulbs, LED, ribbons, fences, rods,
gate automatics, compost boxes, gardening tools, greenhouses, wheelbarrows,
garden tractors, lawn mowers, trimmers, branch chippers, carpets,
leaf blowers, wood choppers, LED panels, brushcutters, aerators,
cultivators, chain saws, ground drills, biotoilets, interior, couches,
chairs, wall units, chest of drawers, coffee-tables, shelves, sitting bags,
rocking chairs, sheds, cabinets, beds, mattresses, doormats, kitchen furniture,
table surfaces, dining tables, bar chairs, blinds, mirrors, bathroom furniture,
office furniture, computer tables, desks, children's cots, garden swings,
curtains, hammocks, sunshades, sand-boxes.

More