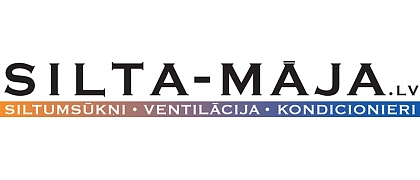 SILTA-MĀJA. LV, Heating pumps, heating, conditioners
16 in may 2022, 16:58

❝Ātra un kvalitatīva kondicionieru uzstādīšana!❞
Add a rating and review
Sun

-

Mon

1000-1800

Tue

1000-1800

Wed

1000-1800

Thu

1000-1800

Fri

1000-1800

Sat

-
40003963966

18.10.2007

Balasta dambis 1, Rīga, LV-1048

2021

1
Mitsubishi, Electric, Panasonic, Nibe, Toshiba, Daikin, Midea. Heat pumps, air conditioning, heating, solar panels, solar collectors. Trade, assembly, repair, maintenance, design. Riga, Latvia, Pardaugava, Agenskalns, Imanta, Zolitude, Ziepniekkalns.

More
High quality assembly and service at affordable prices
We provide full service cycle for installed equipment throughout Latvia
We provide warranty and post-warranty service
High quality installation, annual maintenance and repair of heat pumps and air conditioners not purchased from us
More
Air-to-air heat pumps
Air-to-water heat pumps
Conditioners
Solar panels
Heating boilers
Solar collectors
More
MITSUBISHI, Electric, Panasonic, Toshiba, Daikin, Fujitsu, Midea. Heating, conditioner, heat pump, heating system, heat pump air heat pump, ventilation, air-to-air heat pump, recuperators air conditioning, solar systems, solar panels, conditioners mitsubishi heat pumps, toshiba heat pumps, conditioners panasonic heat pumps, panasonic conditioners, heating boilers mitsubishi air conditioners, mobile conditioner, heating boiler air-to-water heat pumps, water heat pump, ground heat pump compressors, conditioning, freezing equipment, ventilation systems,
Air conditioning systems, conditioners, conditioner, conditioners, conditioner, conditioner, conditioning. Heating equipment, heating pumps, heating service, heat,
heat supply, heated floors, heat pump maintenance, heat pump service, heat pump repair, conditioner service, air-conditioner repair, conditioner maintenance, room ventilation, air-conditioning,
heating equipment and systems. Riga, Sigulda, Cesis, Valmiera, Limbazi, Valka, Smiltene, Madona, Gulbene, Balvi, Ludza, Rezekne, Daugavpils, Livani, Jekabpils, Aizkraukle, Ogre, Dobele, Jelgava, Saldus, Kuldiga, Liepaja, Ventspils, Tukums, Talsi, Jurmala, Riga.
More