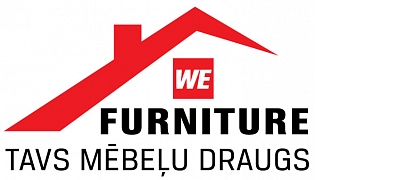 WE Furniture, LTD, Upholstered furniture, sofa shop-warehouse
13 in november 2019, 19:04

❝Izcili dīvāni!❞
Add a rating and review
Sun

-

Mon

-

Tue

1400-1900

Wed

1300-1700

Thu

1400-1900

Fri

1300-1700

Sat

1000-1500
Monday - by agreement
40203070360

LV40203070360

19.05.2017

Dagdas iela 2 – 7, Rīga, LV-1003

2020
In our Store - Warehouse, Brivibas gatve 401, furniture from various European manufacturers is available at especially advantageous prices. We have a large warehouse, so you are sure we will do our best to find a sofa with us for your wishes and your joy will be our biggest prize.
More
Upholstered furniture, Soft beds, Beds for the bedroom, Sofas from Germany, Sofa sets, Furniture trade.

Sofas / Angular sofas, Couch - bed, Sofa bed, Sofas discounts, Comfortable sofas, Soft sofas, High quality sofas, Gray sofas, Brown sofas, Light sofas, Dark sofas, Krāsaini dīvāni, Small sofas, Large sofas, U-shaped sofas, U-shaped sofas, P-shaped sofas, P-shaped sofas, Pull out sofas, Pullout corner sofas, Foldable U / P shaped / shaped sofas, Fabric sofas, Leather imitation sofa sofas, Leather sofas, Leather corner sofas, Youth sofas, New sofas, New corner sofas, Sofas from Germany, Corner sofas from Germany, Sofas Jugla, Upholstered furniture, Sofa stores, Sofas sell, Sofas with lift mechanism, Sofas with laundry box, Sofas with delivery, Sofas with metal / wooden legs, Sofa selectable, Couches, Corner sofas with shelf, Corner sofas with pufa, Corner sofas with laundry box, Upholstered furniture in the jug, Upholstered furniture in the street of freedom, Furniture store - warehouse, Sofa storage, Mattresses 90x200, 140x200, 160x200, 180x200, Continental beds, Upholstered beds, Beds with fabric.
More