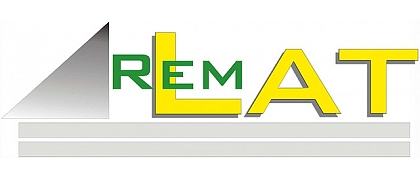 RemLat, logi, durvis, žalūzijas
Plastic, wooden, aluminum windows, doors. Glazing of loggias, balconies. Assembly and installation of doors and windows. Sliding systems, built-in wardrobes, built-in furniture, kitchen furniture. Lifting and garage doors.
More
Window replacement, installation of blinds, door installation.

Plastic, wooden, aluminium windows, doors. Loggia, balcony glazing. Automatic doors. PVC, ( plastic) windows, PVC doors, metal doors, wooden windows, wooden doors, door, window assembly, installation. Five-chamber profile. Glazed partitions. Plastic, wooden, aluminium, metal exterior doors. Plastic, wooden interior doors, "novij stiļ" interior doors. Series windows, ( 119 series, 602 series, 103 series, lithuanian new, lithuanian old, stalin, khrushchev projects) . Protective shutters, internal blinds - vertical, blind assembly, installation, horizontal, cassette roller, mosquito nets. Soleplate, sectional type, roller garage gates, territory gates, industrial gates. Sliding systems, built-in wardrobe, partition walls, sliding doors, built-in furniture, kitchen furniture. Double glazed windows, decorative glass, triplex, tempered glass, security protective films. Box finish, assembly, delivery, transport, maintenance, consultations, automatics, automatic doors, fireproof doors, repair, profiles, rubber, consoles, remote control, PVC, PVH, BFT, glued wood, lamilles, "Novoferm" . Aluplasts, Avangard, COMFORT, WITAL, ELITE. Overhead gates, garage gates, gates, garage gates, garage gates, overhead gates, overhead garage gates, gate automatics, automatic gates, panel gates, warehouse and hangar gates, gates for household buildings, equipment stands, trade complexes, gate equipping, gates with windows, doors, gates with different types of keys, with manual chain reducer, gates with strength ribs, gate color shades according to RAL color catalog, gate service, repair, gate warranty and servicing. We work Berģi, Carnikava, Adazi, Lilaste, Pabaži, Zvejniekciems, Saulkrasti, Bīriņi, Krimulda, Jugla, Jurmala, Baltezers, Sēja, Skulte, Gauja, Siguļi, Upmalas, Garupe, Mežgarciems, Birzemnieki, Eimuri, Garciems, Kalngale, Vecaki, Kadaga, Garkalne, Ķīšupe, Mežvidi, Lauči, Dunte, Jelgavkrasti, Foxes. We work in Riga and Riga district: Sarkandaugava, Vecmīlgrāvis, Vecaki, Jaunciems, Garkalne, Garciems, Carnikava, Adazi, Gauja, Baltezers, Kekava, Daugavmala, Upesciems, Langstini, Saulkrasti. Darzini, Salaspils. Loaders Gardens, Salaspils, Rumbula, Golden oriole, Salaspils, Gnomes, Ulbroka, Kekava, Dwarfs, Lapenieki, Acone, Ramava, Katlakalns, Mežezeri, Alejas, Tiraine, Mangaļi, Vimbukrogs, Lielvārži, Odukalns, Upeslejas, Bunči, Bergi, Mežmals, Saulgoži, Jaunciems, Pūlkarne, Vecaki, Līči, Kleisti, Dzidriņas, Cekule, Jauncekule, Babite, Vakarbuļļi, Imanta, Jugla, Mezciems, Jenči, Bolderaja, Blatezers, Bērzmante, Birznieki, Upesciems, Labauči, Heather, Suzi, Ozolkalni, Bukulti, Biķernieki, Šmerlis, Stopiņi, Breksi, Dreilini, Škirotava, Langstini, Medemciems, Vecdaugava, Vecmīlgrāvis, Jaunmilgravis, Milgravis, Lielupe, Stūnīši, Vētras, Pinki, Spilve, Beberi, Mezares, Cranes, Liberi, Sebruciems, Vikuli, Mucenieki, Jaunolaine, Olaine, Craftsmen, Vecdaugava, Alderi, Ikšķile, Mangalsala, Priedkalne, Bukūlti, Suzi, Brīkalni, Dzirnuciems, Sunīši, Garkalne, Derumi, Daugamale, Garciems, Mežvidi, Eimūri, Ogre, Adazi, Garupe, Kalngale, Atari, Carnikava, Bīriņi, Garkalne, Jurmala, Tīnūži, Baldone, Kadaga, Silakrogs, Spunciems, Plakanciems, Bolderaja, Zaķumuiža, Gauja, Jāņupe, Siguļi, Ropaži, Jelgava, Lilaste, Vangazi, Vecumnieki, Skulte, Vaivariņi, Silmala, Valle, Dobele, Valmiera, Vecaki, Rīnūži.
More