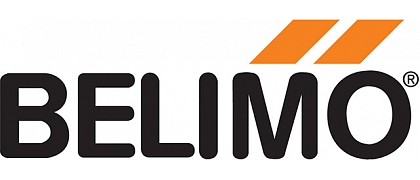 Belimo Balticum, Ltd., Ventilation automatics
Sun

-

Mon

900-1700

Tue

900-1700

Wed

900-1700

Thu

900-1700

Fri

900-1700

Sat

-
40003527660

LV40003527660

"Swedbank"

LV82HABA0551000104853

16.01.2001

Mūkusalas iela 72B, Rīga, LV-1004
Belimo is a global market leader in the development, production and marketing of heating, ventilation and air conditioning systems. Drive and control valves are the core business of the company. Belimo aims to be a reliable partner for its customers worldwide. Research and market-related innovation, as well as rapid and tailored execution, are key. Belimo provides more than just products. We support our customers with an innovative, efficient and energy-optimizing solution and provide success both for our customers and for ourselves. We are close to our customers around the world, we speak their language and we understand it. Everything we do will give us confidence that they have chosen the best.


More
Air Valves
Water valves
VAV & Security solutions, etc.
More
Automatics, Ventilation, Ventilation and air conditioning systems and equipment for premises, Sensor, Sensors, Heat meters.

Sensor, sensors, transmitter, transmitters, recovery, sensors, ventilation, ventilation equipment, conditioning, conditioning equipment, valves, automatics, valve, valves, power valves, air valves, spring operated valves, water drive valves, air drive valves, pressure transmitters, pressure switches, Belimo in Riga, Belimo in Latvia, ventilation system installation consultations, hash nodes, water mixing unit, automation, avtomatika, Belimo valve drive ventilation, actuator, actuators, air treatment, air distribution, air management, feedback, water solutions, heating system operation, efficient heating system operation, cooling system operation, efficient cooling system operation, ball valves, saddle valves, pressure independent valves, butterfly valves, 6-way valves, zone valves, air flap drive without safety functions, air flap drive with safety functions, retrofit for air valves.
More