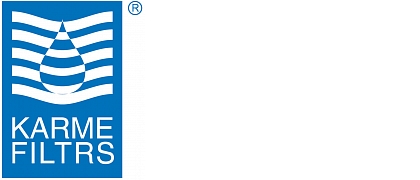 Karme filtrs, water technology center
15 in september 2020, 10:14

❝Lieliska ekspertu komanda❞
Add a rating and review
Sun

-

Mon

800-1700

Tue

800-1700

Wed

800-1700

Thu

800-1700

Fri

800-1700

Sat

-

28.04.2023. ( 08: 00 – 17: 00) 29.04.-01.05.2023. ( Free) 02.05.2023. ( 08: 00 – 17: 00) 03.05.2023. ( 08: 00 – 16: 00) 04.05.-07.05.2023. ( Free) 08.05.2023. ( 08: 00 – 17: 00) 20.05.2023. ( Free)
40003228324

LV40003228324

"Luminor Bank", AS

LV81RIKO0002013189900

15.11.1994

Pilsoņu iela 1 k-5, Rīga, LV-1002
"Karme Filtrs" is a coordinated team of professionals with extensive practical experience in consulting, as well as in the design, manufacture and operation of water treatment and water conditioning equipment. We consider it our professional honor to provide an excellent level of service to our customers, to find the combination of technology, capital investment and operating expenses that will most effectively solve the customer's technical tasks. In every project, it is important for us to accurately assess the quality and productivity of the equipment required by the customer. We consider accurate basic calculations to be a decisive factor, as they make it possible to ensure the accumulation of purified water at the required level. To achieve this goal, we perform water balance dynamics calculations, count water consumption per hour, determine the required water quality level and quantity according to the specifics of technological water, as well as provide maintenance during the operation of the equipment.
More
Water treatment equipment, consumables( filter materials, reagents, chemicals) and delivery of spare parts;
Installation, adjustment and start-up of the equipment;
Service, warranty and post-warranty repair;
Water analysis;
More
We serve such places as beverage production, food factories, dairy factory, residential houses, municipal facilities and woodworking.

More
Water filters, Water treatment, Water analysis, Ūdens apstrāde.

Water filters, water analysis, water treatment, water treatment. Engineering solutions, consultations, production, service, water analysis. Automatic water treatment complexes: iron removal and softening water filters, reverse osmosis equipment, ( RO) ultrafiltration, ( UF) and water recycling. Electrode ionizer, ( EDI) . Degassing columns and gas membranes. Nanofiltration equipment. Chemicals for Nalco boiler and cooling water treatment. Water filter sale, factory, food production, design of water treatment and water conditioning equipment.
More